Hey there! We are super excited to show you what we've been working on for the past couple of weeks - now live in the SimplyPrint Platform 🙌
Table of Contents & Changelog
1-click print feature
A new exciting feature in this update, is our Print Queue 1-click print button, allowing you to start all your printers with just 1 click.
The button shows you a brief overview of all your available printers, along with a print from the Print Queue which we have automatically paired with the printer, based on the matching criteria such as tags, material, bed size, nozzle size etc.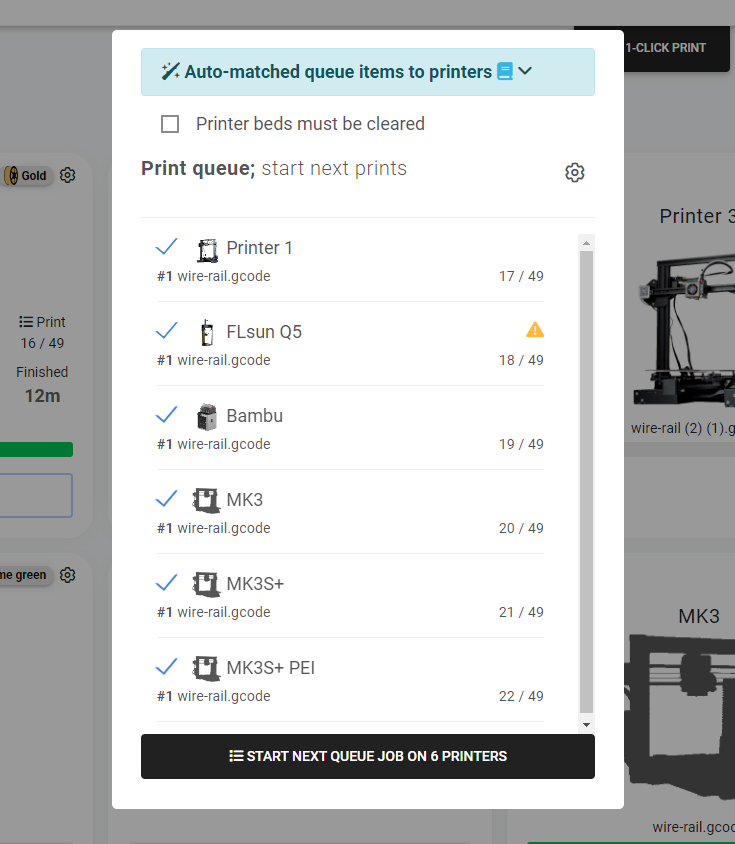 This feature saves print farms a couple of steps every time you need to start a print! Hope you enjoy it.
Learn more about how we match Print Queue items to your printers here; https://help.simplyprint.io/en/article/auto-matching-queue-items-to-printers-xdn526/
Print Queue update: queue groups, done items list, quick stats, notes, download button, virtual items & more permissions
The Print Queue just got a major makeover! The changes include;
Quick stats: overview of amount of jobs, total print time and material usage of your queue
Queue Groups: split up your queue into smaller chunks - perhaps you want a queue group for non-sliced files, and one for files that are ready to be printed?
Job notes: you now have the ability to add a custom note for each item in the queue
Download button: each queue job can now easily be downloaded and checked out
Virtual items: as an experiment, we have opened up for the file types; .ufp, .chitubox, .zbd, which can't be printed via SimplyPrint, but can now be stored in the queue(and file)-system. These will be marked as "Virtual" items, allowing you to click "+1 printed" on it, rather than sending it to a printer!
You can also mark an entire Print Queue Group as "Virtual", rendering even printable & slicer-supported files to be manually marked as finished
Done items list: in the bottom of your Print Queue, you'll now see a list of finished or ongoing queue items, where the total required amount has been printed. This allows you to easily re-add the item to the queue, before it's removed from our servers a couple of days after it finishes
More permissions: for Print Farms and schools with multiple users of the platform, we now have a bunch of new permissions for the queue! The especially-cool ones are highlighted!

"Can access print queue"
"Can re-order print queue and queue groups"
"Start prints & slice queued jobs"
"Assign printer(s) & printer groups to queue jobs"
"Create & delete queue groups"
"Move done jobs back to the queue"
"See other's queued jobs"
"Edit other user's queue items"
"Allow deletion of other user's items"
"Read other's notes"
"Download other's queued files"

Slicer update
The SimplyPrint slicer also got a new big update today! This one is a bit more hidden, but helps improve the slicing experience a lot!
What's new;
More Official Profiles: we have swapped out the old "Default" slicer profile system, for a new and improved version that allows us to give you default profiles based on your printer type, and whether it's direct drive or not
A

killer

multipurpose start-Gcode: we have a new standard start-Gcode script, that adds a perfect prime-line, as well as uses your printer settings to determine whether it should perform Auto Bed Leveling, and uses your user-defined (or the standard, if nothing is defined) Auto Bed Leveling Gcode
Bugfixes;

Fixed the support type "Snaking" not working
Fixed bug where it could deselect your assigned filament and (temporarily) revert to standard non-user-defined start-Gcode
Fixed bug where, if you had multiple printers, it might jump back to a previously selected printer
Updates from the past couple of weeks
As we don't want to spam you with too many updates (although it can be tempting! A lot is happening behind the scenes every single day!), we have bundled some of the updates we have, more or less "silently" released over the past couple of weeks;
Tags feature (released prior to this blog existing! Otherwise you

bet

we'd have announced it better!)
A lot of added permissions

From basic ones like "Can user start a print, slice, cancel, or clear bed?", to more specific ones like "Show 'Go to OctoPrint' button". We want you to be able to get the experience you want out of SimplyPrint, so; permissions for everything!

Improved "Start print" UI

The "Start print" file selector popup is now much larger and the file info has been moved to the right side of the screen

Reworked printer list view
Added file-badge to make it easier to identify if a file is a 3D model, or a printable file (e.g. Gcode)
Public release of our API (https://apidocs.simplyprint.io/)
Release of the SimplyPrint Suggestion Box

Got an awesome idea for something we should add to SimplyPrint? Post it here; https://suggestions.simplyprint.io/ and let other users upvote and comment on your suggestion! (more on this later!)
Conclusion
As always; thanks for all your continued support and feedback! Let us know how you like this update, or if you find any bugs for us to squish! 💪