Hi SimplyPrinters! Today we have an exciting new update to share with you! We have just released our Cura plugin and browser extensions, as a part of a larger new "Integrations" initiative!
You can find all our integrations and read more about each one, on our new "Integrations" page, and via the panel if you're logged in.
The integration list includes "old" integrations, such as Tinkercad, the OctoPrint plugins that work with SimplyPrint, and all the different "Connection gateways" you can use to set up your printer with SimplyPrint (OctoPrint, Mainsail etc.)
We believe everything works better together, so you can expect more integrations in the future! If you have suggestions for integrations, you can suggest them in our Suggestion Box, or develop one yourself using our OAuth2 API (reach out for more details on this).
Table of Contents
Cura plugin - print directly from Cura
We've been hard at work on a smart integration for the second most popular slicer in SimplyPrint (right after our built-in SimplyPrint Slicer); Cura by Ultimaker.
And you can now install the SimplyPrint Plugin for Cura via the Cura Marketplace.
What does the SimplyPrint Cura Plugin do?
Log in with your SimplyPrint account in Cura
After slicing a file, click "Send to SimplyPrint", to upload the file to SimplyPrint
Lastly, we open SimplyPrint in a browser window, and here you simply choose whether you wish to print the file, add it to your queue or save it in your files
How to install and how to use?
The SimplyPrint Cura plugin can be installed inside Cura, by clicking "Marketplace" in the top right corner! The installation takes 10 seconds!
You can find more info on the Cura integration, as well as a detailed installation and "How to use" guide in our helpdesk.
And that's all for the Cura integration! It's super simple, but powerful! Hope you'll find this useful.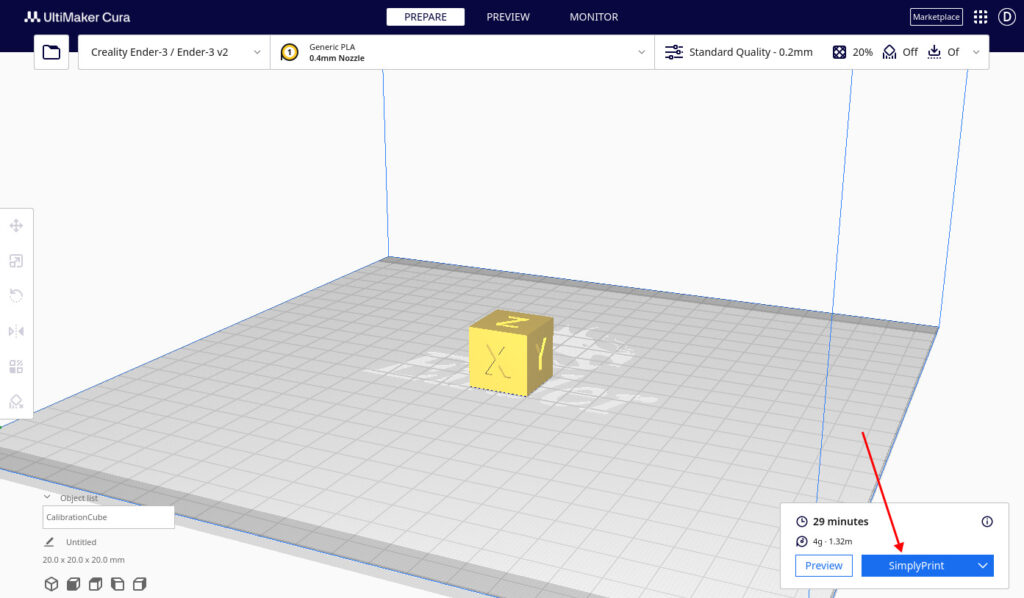 Browser extensions; send 3D models to SimplyPrint from Thingiverse and Printables
SimplyPrint now has an extension/add-on/plugin for your browser! (most browsers*)
Our browser is quite simple; it adds a "Send to SimplyPrint" button to Thingiverse and Printables, so you can easily transfer the file to the SimplyPrint slicer, your print queue or your files (or print it directly if the file is pre-sliced).
Download here;
You can learn all about our browser extensions, such as how to install and use, here; https://help.simplyprint.io/en/article/browser-extensions-send-thingiverse-printables-files-directly-to-simplyprint-102vk7j/ *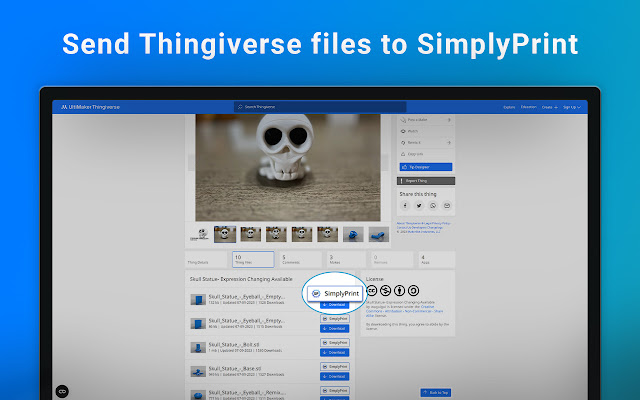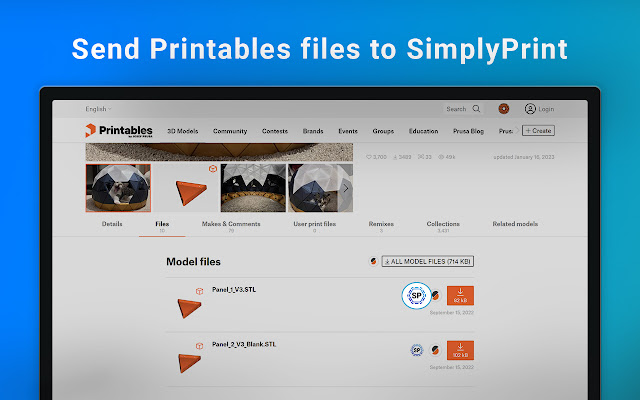 Other changes; full changelog
29-07-2023: ✨ Filament simplyprint.io/filament/[XXXX] pages implemented (suggestion #31)

Scan SimplyPrint-generated spool identifier QR codes (can be generated via the Filament page in the panel) to see details about the filament and easily assign it to a printer or perform other actions for it
Added account filament setting "Public filament pages", allowing you to require login after scan of filament spool QR code (info shown for non-logged in users is restricted to spool color, brand and % left - no user, printer, price etc.)

08-08-2023: ✨ Added "Smart App Banners" for iOS and Android devices, showing a quick link to our the download page of our mobile app (a lot of users seem to be unaware that we have an app; no we advertise it better!) + download link on start of print if you choose "App" for notifications, but haven't installed the app yet
08-08-2023: ✨ Added "See default slicer profiles" organization user group permission, to disallow certain groups from seeing the SimplyPrint-defined "Default" slicing profiles, so they only have custom or organization slicer profiles to choose from
08-08-2023: 🐛 Added missing Danish translations for "Cancel print" popup
08-08-2023: 🐛 Fixed slicer bug on create of new profile based on default profile when choosing "Copy from currently selected"
08-08-2023: 🐛 Fixed "Farm Overview: Next finished print" time-flickering bug
What we're working on behind the scenes
In the spirit of keeping development as transparent as possible, here's a little update on what we currently have cooking!
Bambu Lab integration Beta

We're hard at work getting the Bambu Lab printers integration ready for you guys! We look forward to releasing the beta soon for those who have signed up for it, gradually inviting more and more users before making it publicly available


Direct Prusa integration

This one has been on display in our setup guide as "Coming soon" for some time now, but we haven't really talked about it publicly! With this integration, we wish to utilize the fact, that the new Prusa MK4 and XL printers are shipped with a more powerful new main board with Wi-Fi capabilities. This should allow us to hook it up to SimplyPrint directly, with no extra hardware or Raspberry Pi required.

While we have a working beta for this, due to some quite big issues in the Prusa firmware, resulting in insanely slow file download speeds, we don't feel that the integration in its current state is usable.

Lastly, we wish to avoid having to make custom firmware for the printer, but it's currently looking like a choice between an unsecure connection (no "https" / no "SSL"), or custom firmware, which requires you to void the warranty of your printer...

We're exploring different solutions, but we may have to wait some time for the Prusa firmware team to fix issues like the download speed before we're at a point where we can say more about these plans.


A big boring backend & database logic refactor update (not something most people will notice, but it helps make SimplyPrint faster, more scalable and development faster for us in the future)
Print queue notifications for user who added the file; not just who prints it
Easy SSO (SAML) setup for enterprise
Finished things awaiting release;
✅ Auto-print - ready real soon!
That's it for now! As always; let us know how you like the update, or if you're experiencing any issues 🙌
Happy printing!
- the SimplyPrint team