Hi there SimplyPrinters'!
We are super pumped to pull back the curtain on our latest innovation within the SimplyPrint platform: AutoPrint! Stick around as we dive deep into what it is, how it can change your 3D printing game, and of course, how you can hop on board.
And hey, who knows? We might just sprinkle in some special coupon codes for printer mods and some SimplyPrint goodies. Enjoy!
Table of Contents
What is it, and why is it a big deal?
Introducing AutoPrint - our groundbreaking feature that lets the magic of 3D printing happen on its own! Think of it as your ticket to the world of continuous 3D printing, or if you prefer, automated 3D printing. And, oh boy, does it live up to its name!
If you're in the print farm business, or you're on the hunt to boost your print productivity, listen up! With AutoPrint, you could skyrocket your output by 3x, 10x, or even more. Say goodbye to the grind of manual interventions post-print. Late nights, weekends, holidays? AutoPrint's got you covered, ensuring your printers keep churning out masterpieces, uninterrupted.
Now, let's get real for a moment. We didn't invent the wheel here. Automated printing has made its rounds in the 3D printing arena in various avatars. But, we felt there was room for improvement in what was available. And that's where our passion led us to elevate the game with AutoPrint.
With AutoPrint at the helm, no more fretting over splicing, juggling Gcode files, or managing print queues that are shackled to specific printers. And definitely no more bookmark chaos with endless OctoPrint instances. It's all here, sleekly integrated and unified under the SimplyPrint umbrella.
We might not be pioneers in automatic printing software, but we're taking a bold swing with an aim to be the best. But hey, don't take our word for it. We invite you to give it a spin and see for yourself if SimplyPrint truly delivers the magic we promise! 😎
25% off: Limited-time discount
Interested in our AutoPrint feature? You'll need the "Print Farm" SimplyPrint subscription - And guess what? We've got a special deal for our early birds! Upgrade today and enjoy 25% discount for your first 4 months. Just use the coupon code "autoprint-25" at checkout.
This offer ends on November 1st, and only 5 coupons are available - first come, first served.
How does AutoPrint work?
Setting up and using the AutoPrint feature requires a bit of preparation on your end. While we can kick-start the next print for you, we can't magically clear your bed without a bit of help from you.
AutoPrint utilizes your SimplyPrint Print Queue, our tags feature with the Auto-Printer-Matching that it brings, and as SimplyPrint knows your printer, its size, capabilities, max temperatures & more, and because we analyze every Gcode file to know which temperatures it prints with, the required bed size to print, and much more, we - with your input - always know which print should go to which printer.
All this already being in SimplyPrint gave us the perfect platform to automate your print farm with all-things-software taken care of, making the workflow super easy;
Fill up your Print Queue
(Optionally) assign material, nozzle & custom tags and information to queue items and printers
Enable AutoPrint for your AutoPrint-ready printers
Set your desired print release temperature or specify how long to wait after finished print
When a print is finished and the bed has properly cooled down or enough time has passed, we run the bed-clearing script
When the bed clear script has run, we automatically start the next suitable Print Queue print on the newly-available printer
Watch the magic happen 🧙 (over and over again)
AutoPrint can be enabled in the printer control panel (click on a printer, look for the "AutoPrint" widget).
You can learn more about the specifics of the AutoPrint feature in this helpdesk article.
Get started: supported methods & printers
At launch, we natively support plug'n'play, one-click setups for 3 of the most popular automation mods for 3D printers; the Loop Automatization Mod, JobOx and the Auto-Ejection Kit by 3DQue, as well as belt printer support, and "Standard toolhead push-off", which we'll dive more into in a bit, and last but not least, we'll let you do it any way you want - we're sure you'll come up with cases we could never think of!
JobOx: the JobOx mod is a brilliant addition to Prusa MK3S+ printers, simply using the printer's own movement! We were blown away when trying this!

Use cupon code "simplyprint" at checkout, or use this link to get a discount (not sponsored - just kindly provided by the JobOx team for SimplyPrint users!)

Loop: the Loop automization mod for Prusa MK3S+ that wipes off your print using an attached arm
Belt printers: printers that can run infinitely on one axis, such as the Creality CR-30
3DQue Auto-Ejection Kit: auto-ejection kit for multiple different printers, adds a slight tilt to your printer, a different print bed, and then simply uses the print head to push off the print
The manual way: - standard toolhead push-off; using the print head to push off the print on any printer; we provide the Gcode, as long as the printer is strong enough, and the print bed lets go of your print well enough, any printer can AutoPrint!
These are just some ways, that should allow most users to get started in no time, but if you have a printer that can do this itself, a robot arm that removes the bed and places on a new one, or something we can't even imagine while writing this; we've got you covered - you can always define custom Gcode that should be executed to clear the bed.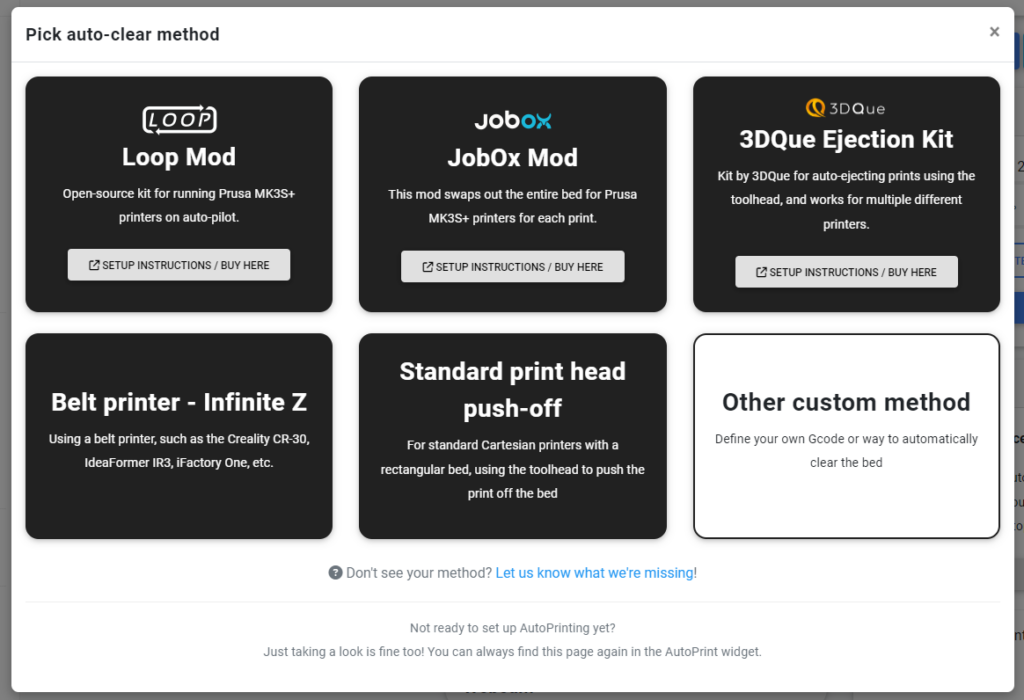 And that's the gist of what you need to know about the AutoPrint feature!
Testing, behind the scenes & thanks
The AutoPrint feature was so much fun to develop and test, that seeing we haven't really taken too much time to "hype up" a feature or do cool promotions for it, we decided to go all-in this time!
While we as a small software startup rarely have the budget to try out all the different printers and mods that we want to add support for in the platform, and rather rely on user-testing - this time around, we set out to try as many different solutions as we could!
We ended up first-hand testing with the Loop mod, the JobOx, a CR-30 and trying the "toolhead push off" method on a stock Ender 3 Neo, Prusa MK3S+ and Prusa Mini.
The video is shot, edited and mostly planned by Carl Emil whom I started SimplyPrint with back in 2020, and having him on the project was a blast from the past! After a few days of planning, shooting in a professional studio, editing, getting feedback from some of our users and hiring a voice actor - we had a dramatic little promo video for the new AutoPrint feature!
Here are some photos from the shoot and testing!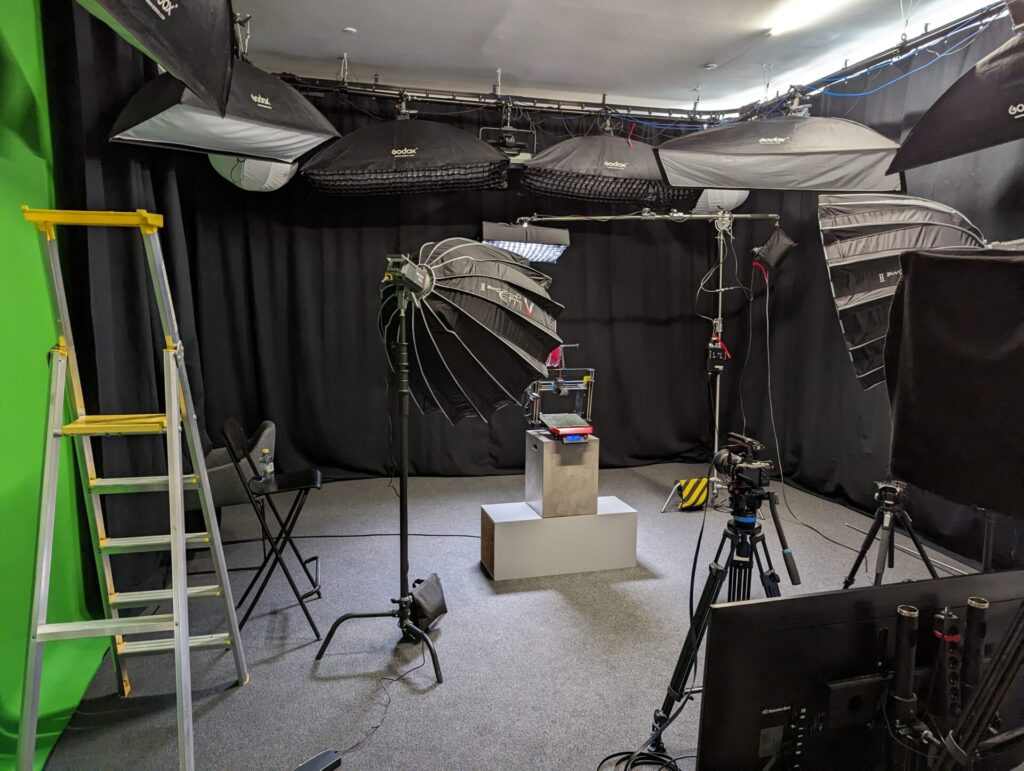 Big thanks to Carl Emil for the awesome promo video, to lostboyslab (print farm, design house, innovators, material producers) for letting us use your JobOx, to LAB3D (print farm, service & printer rentals) for letting us play with their Loop mod.
Thanks to the JobOx team for not just an awesome mod that was a blast to play with, but for great communication and help in achieving the best possible support for the JobOx mod in the SimplyPrint platform. And, lastly, thanks to Pierro55 for the awesome open source "Loop Automatization Mod" and for being in close dialogue with us during the development, providing testing and feedback.
Smaller changes + what's next & what are we working on?
As usual, we like to end our blog posts with a little update on the smaller fixes and changes we have released recently, as well as what we're working on, and what you can expect to see soon!
Small fixes & changes released with this update;
🐛 "Print cost calculation" bugfix (issue that could result in the material cost being "0" if you had an active spool on the printer)
🐛 Fixed printer image bug on job view (via job history), for never printers that don't have a "silhouette" version
🐛 Fixed filament page sorting select fix sort by "Color" and "Type name" not working
🐛 Fixed queue->printer item tag matching for assigned spools, where it in some cases didn't match
"Pricing" page update, with better descriptions of each feature, an added price calculator, "Show B2B prices (excl. VAT)" checkbox & more
+ a dozen small fixes for all-around, unreported, non-critical issues, mostly UI-wise
Right now, we're hard at work on a bigger, somewhat boring, refactoring of the system's backend and rework of the printer API (WebSocket server that you and your printers connect to), to ensure continued stability in the future, as well as a better development experience for the team. Essentially, this means that it'll be easier for us to focus on developing cool features in the future - call it an early autumn cleaning spree!
But, early November, we're back at feature development, with a bunch of cool things in the pipeline!
The list is still quite similar to what we talked about in our last blog post, but with some updates.
Bambu Lab integration Beta

This one is getting close! We know we've let you wait a while - and trust me, it's not because we wanted to! Adding support for Bambu Lab printers has been a big challenge, as the main work has been changing how the SimplyPrint platform treats files - especially 3MF, allowing for printer-specific features (Bambu Lab AMS), making some features unavailable (features in SimplyPrint that won't work with Bambu Lab just yet, due to their limited API).
We hope to have the initial beta invite round out in early November! Hopefully a little sooner than that! We appreciate your patience 🙌

Direct Prusa integration

The "Direct Prusa integration" is all about not requiring you to use a Raspberry Pi or any other device when using a newer Prusa printer.
We plan to try it out on about 100(!!) new MK4 printers with some partners of ours real soon (within a couple of weeks).
Prusa has somewhat fixed the download speed issue that made us hesitant in releasing this integration, and they're working on making this even better - so props to the Prusa team for that!
The current state is that it'll still require custom firmware, which was not the initial plan, and we're unsure whether our community wants that, as it'll break the mainboard warranty... Let us know if this is indeed something you'd wanna do - in that case, we might be ready to release soon!

Print queue notifications for user who added the file; not just who prints it
Easy SSO (SAML) setup for enterprise (in testing - works well so far, expect public rollout soon)
"Refer a friend" program; earn cool rewards, free extra printers & more by inviting your friends or peers to use SimplyPrint + affiliate program for those with a bigger reach. More on this later.
"Sidebar queue" (suggestion #66)
"Maintenance schedule" (suggestion #21)
and much more... Keep the suggestions coming at https://suggestions.simplyprint.io/!
If you made it this far; thank you for following the SimplyPrint journey and supporting the platform!
For the first time, here are some photos from the past month from the office, print farm visits & conferences.